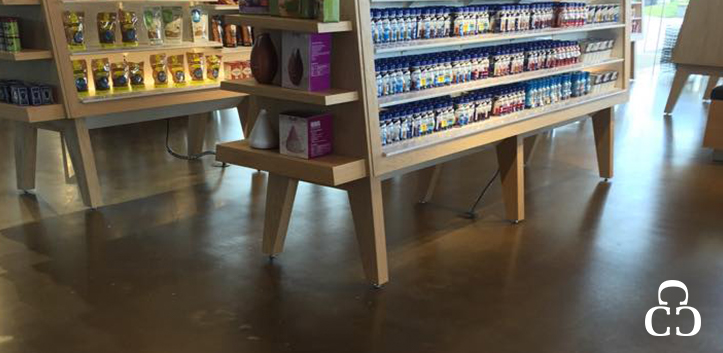 Staining floors is not a new creation, but it has become a popular way for business owners to enhance the look of their concrete floors with custom concrete coatings. The great news about staining floors is that it can be done on existing or newly laid out concrete floors. Do consider though that concrete stains do not cover up any cracks or breaks on your concrete floors. The custom concrete coating experts want to share with you the 101 on what stains are all about.
What's a stain?
Contrary to popular belief a stain is not the same as paint. When you paint concrete floors, the color gets added only to the surface. Chipping and discoloration occurs faster when there is only a layer of paint added. A stain gets absorbed by the concrete pores. These custom concrete coatings make the color fade-resistant and the color to stay permanent
The type of stains.
One of the biggest perks about staining concrete floors is the color options. The options for jazzing up your floors got a whole lot larger with custom concrete coatings. There are two different kinds of stains for concrete floors: water-based and acid-based stains.
Water-based stains
If you are looking for a broader and more dramatic color spectrum for the floors, a water-based stain is a better option. This type of stain allows for mixing colors to broaden the options. The color possibilities are endless!
Water-based stains color the concrete with pigments, not chemicals like acid based. Water, pigments and binder are the three key ingredients. The carrier is the water that allows the materials to flow and spread out on the surface. Pigments add color and dimension to the floor. What sticks it all together and locks it in place is the binder that is usually an acrylic polymer.
Acid-based stains.
Do you want to give your floors a spice up, but keep it subtle? An acid-based stain can do just that! Acid-based stains have a more limited color spectrum than water-based stains. Rich earthy tones, such as tans, browns and soft blue-greens, are what this stain can offer.
Acid-based stains are chemically produced, unlike water-based stains. The three key ingredients in this process are water, hydrochloric acid and acid-soluble metallic salts. Acid-based stains penetrate the concrete and create a chemical reaction with the hydrated lime. Once the stain reacts with the other three components, it becomes permanent and it won't chip off or peel.
Cost of a custom concrete coatings.
The cost can become a factor to consider when it comes to choosing to redo floors. A stain to existing or new concrete floors are a low-cost option to give floors a fresh new look without the high cost.
The cost of each project depends on the size of the project. The larger the space, the larger the price. Staining concrete can be a difficult task and is always recommended to be left to the professionals for the best and lasting results. One application can cost you $2 to $4 per square foot. Layers can be added to achieve the look you're looking for but that will increase the cost. It can cost you about $15 per square foot.
If you're looking to jazz up your business' existing or new concrete floors, call Custom Concrete Creations. We can help you explore all your custom concrete coatings options and colors that will fit any brand!
____________________
Custom Concrete Creations is chosen to help facilitate projects because we are the preferred custom concrete floor company, not only in Omaha, but for the greater Midwest region. No project is too big or too small for our team of seasoned experts who use state-of-the-art equipment on each and every project. We help you achieve the look of your dreams and do not consider the job done until you are happy with the results. So give us a call or contact us for your custom concrete needs today!