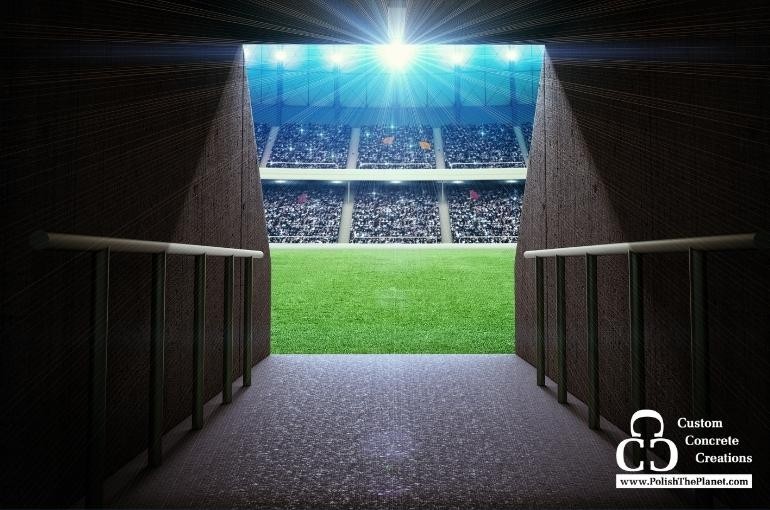 Football season is in full swing! Polished concrete floors are not just a great choice for football and soccer stadiums, but also for baseball parks and basketball arenas. Because of its cost-effectiveness, easy maintenance, durability and endless possibilities, many are opting for polished concrete.
It may not be the obvious choice, but when you consider all of the elements, polished concrete could be the best option for these large areas. It can also be very economical depending on what styles and colors you choose. Custom Concrete Creations is here to show you the benefits of installing polished concrete floors in your sports stadium!
Durability
These floors are incredibly long-lasting. When they are sealed properly, they could last a lifetime and prevent you from needing to replace your flooring as often as other materials. These spaces have incredibly high levels of foot traffic, so it is crucial that they have flooring that can withstand it. Sports stadiums also serve food and drinks, and require flooring that won't get stained by any spills or messes.
Maintenance
When spills happen, you want a floor that can easily be cleaned. Although you will need to maintain polished concrete over time, daily maintenance is simple. Mopping with soap and water will keep your floors in good condition. It is also cheaper to maintain concrete floors when compared to other flooring options.
Uniqueness
Polished concrete is a great option if you're looking to make your facility stand out because it comes in many different colors, designs and patterns. An overlay allows for color to show through the polish, giving the space a custom, personalized and unique look. You are also able to incorporate logos into the flooring. This can create an original look that is specific to your space, as you can incorporate your team's colors, logos and mascot.
Water resistance
Think about how often it rains at games. The College World Series in Omaha, Neb., gets rained on at least once every year. An added benefit of polished concrete is that it is nonporous, meaning it's moisture resistant. Whether your polished concrete is getting poured on during a summer baseball game, or if fans are entering the basketball stadium wet because it's raining or snowing outside, you don't have to worry about it getting damaged.
Reflectivity
A floor that is highly reflective is beneficial because it allows for better lighting. You can save money on electricity bills, which are already expensive when lighting an entire stadium. In crowded areas, high visibility is important for safety and functionality. You also want your guests to be able to find their seats, even if the stadium is dimly lit during the games.
Reap the benefits of

polished concrete floors

Polished concrete is the most appealing option when compared to others. If you want teams and fans to be astonished by the look of your stadium or arena, installing polished concrete floors with the home team's logo and colors will certainly do the job! Contact us today to get started on your project.