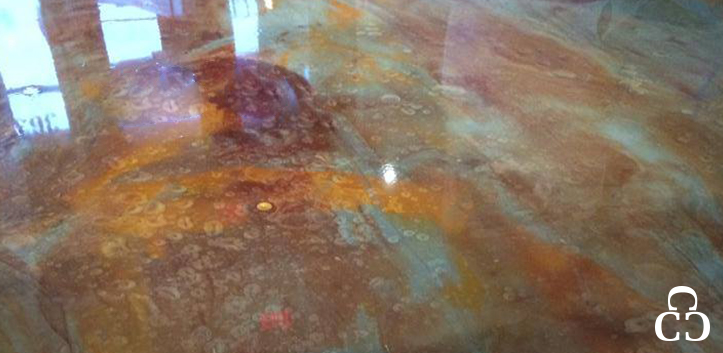 The benefits of plain concrete floors are easy to recognize: their durability, cost-effectiveness, and easy maintenance can't be contested. That being said, plain concrete has the tendency to appear dull. Once the concrete has been poured, a multitude of custom concrete coatings are still available to modify your new floor.
Coatings that are applied to concrete floors, once dry, have numerous purposes – both functional and aesthetic. Perhaps the most obvious is the use of epoxy coatings to protect the surface of the already durable concrete from scratches, cracks, or chipping. For a different visual aesthetic, though, custom concrete floors can be painted, dyed, stained, or overlaid for dazzling results.
No matter what purpose your concrete will serve, Custom Concrete Creations can help.
Concrete Sealer
This type of coating mostly offers protective benefits. The category includes finishes such as acrylics, polyurethanes, epoxies, and hardeners. Most of these are considered "film-forming sealers," which stay true to their name by laying a thin protective film over plain concrete.
Epoxies and polyurethanes are thicker coatings than acrylics, but acrylics dry faster than the others while simultaneously bringing out their color. Epoxies are the go-to coating for indoor custom concrete floors due to the fact that discoloration can occur if exposed to the sun's ultraviolet rays. They can be pigmented in various colors, even metallic hues for the aesthetically adventurous. Hardeners, on the other hand, are designed to soak into the concrete itself and help to repel chemicals, water, and oils.
Concrete Paint
Concrete painting is one of the most straightforward custom concrete coatings. It can be a do-it-yourself project for owners of existing concrete floors and comes in an almost endless variety of colors. It does a great job of creating a shiny, attractive surface, which can be customized with multicolored flecks or anti-skid additives.
Concrete Dye
Dyes are one way to achieve a more natural-looking surface than colored epoxies. The original texture peeks through from underneath any color one chooses. Water-based or solvent-based dyes can be applied with many different techniques that produce a variety of looks. Dyes are chosen mainly because of their ability to penetrate deep into the surface of the concrete with tiny particles . They are best for indoor custom concrete floors because they can be subject to UV-ray damage.
Concrete Stain
Stain differs from dye in that it reacts with concrete on a chemical level, while dye simply penetrates it. However, both variants can be paired with clear epoxy custom concrete coatings that preserve its natural texture. Some of the most popular stains produce a "leathered" look that fits into many home decor schemes. Water-based stains come in a variety of vibrant colors with various opacities. Acid-based stains are primarily used to achieve more basic, earthy tones. Stains are UV-resistant under normal conditions and become a permanent feature of the concrete once applied.
Concrete Overlay
Concrete that is worn down, damaged, or simply aging can be given new life with an overlay. Paper-thin or thicker overlay blends are used depending on the state of the existing concrete to be repaired. Most overlays are a blend of pourable concrete and polymer mixture; the polymer serves as an attachment aid. One contractor on Everything-About-Concrete.com mentioned installing an overlay on a set of stairs that ended up costing only one-fifth of what it would have to completely replace them. Decorative effects can be achieved with overlays as well – stamped patterns are a good aesthetic option.
* * * * * * * *
Custom Concrete Creations is chosen to help facilitate projects because we are the preferred custom concrete floor company, not only in Omaha, but for the greater Midwest region. No project is too big or too small for our team of seasoned experts who use state-of-the-art equipment on each and every project. We help you achieve the look of your dreams and do not consider the job done until you are happy with the results. So give us a call or contact us for your custom concrete needs today!