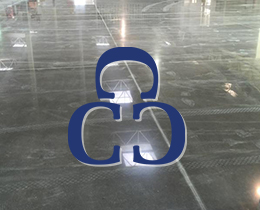 We discuss all different aspects of polished concrete every week. This week we want to reiterate a few reasons why you should choose concrete over other flooring options. Concrete has been considered a "green" material for a lot longer than anyone has discussed sustainability. Many concrete structures have endured and stayed strong for centuries showcasing their durability and resilience. What makes concrete "green" is the fact that it is almost always produced locally with recycled materials. Some of concrete's sustainable attributes are more recent and target improvement areas. Some examples include using alternative fuel sources during manufacturing and using industrial by products in place of cement - both of which reduce the total amount of energy required to produce concrete.
Materials
Materials transparency should be measured across the lifespan of a project - from beginning to end. The term "cradle to cradle" was invented to clarify that many factors of a structure's use and development can affect sustainability. A measurement tool was also developed to evaluate these factors and it is called the life cycle assessment. Building on life cycle assessments, product category rules and environmental product declarations in the concrete industry have become a great way for manufacturers and trade associations to display transparency in their product's life cycle performance. Concrete environmental product declarations provide insight into the ways that manufacturers are reducing things such as water usage, total energy consumed, and carbon emissions. These among other performance measures are things that a business' environmental product declarations will touch on.
Durability & Carbon Footprint
Concrete lasts for decades, even with little to no maintenance at all. Concrete's extended lifespan paired with minimal resources required for preservation contributes to its admirable sustainability. However, in order to achieve these sought-after levels of durability, concrete must be properly designed and installed. There are materials on the market that can reduce various environmental threats to concrete's durability. When it comes to building materials, the carbon footprint includes things such as CO2 emissions that are linked to construction and manufacturing, and also those linked to operation. Concrete's longevity and the money it saves when it comes to repair and replacement reduces the material's carbon footprint. To learn more about the sustainability of concrete, check out our previous blog post "6 Reasons Why Concrete Is Sustainable."
* * * * * * * * * * *
There are so many creative and custom options for finishing concrete, but first and foremost is the concrete itself. At Custom Concrete Creations we have state of the art equipment and a properly trained team with years of experience. Custom Concrete Creations is a premier contractor serving the Omaha area as well at the Midwest. Give us a call or send us an email for your custom concrete finishing needs today!