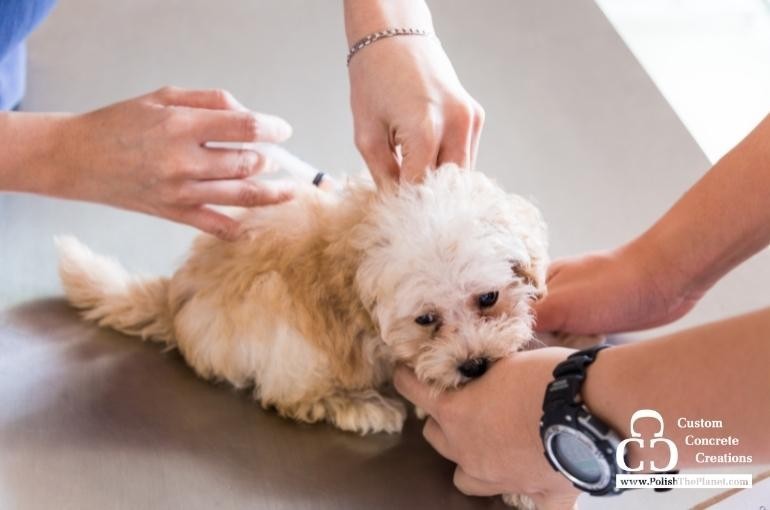 It's raining cats and dogs… and polished concrete!
Veterinary clinics and pet hospitals see all sorts of animals on a daily basis. Whether it's a scheduled appointment for a simple nail trim or a last-minute vaccine before going on a trip, it can be hard to know what to expect. Cleanliness and hygiene are top priorities. Polished concrete floors offer many benefits for every veterinary clinic, from keeping their building clean to being pet-friendly.
At Custom Concrete Creations, we offer commercial concrete flooring solutions to a wide variety of industries. No matter your industry, our team will work hard to give you the best flooring. Below are a few reasons why polished concrete is a great option for veterinary clinics!
The solution to lots of foot (and paw) traffic
High foot traffic can be problematic to any floor, but not polished concrete. Veterinary clinics bring in not only foot traffic, but paws, claws and even hooves. Polished concrete floors are durable, scratch resistant and visually appealing. You want a floor that looks good, as people love their pets and want to know that when they bring them in or drop them off that they will receive good service. Polished concrete is visually appealing and there are tons of coloring and finishing options available.
A slip-resistant floor
Polished concrete has many coating options, including epoxy coatings, that can give your clinic a slip-resistant floor. You will want a flooring option that is slip-resistant to create a pet-friendly environment. Polished concrete is a great choice for a business that sees dogs, cats and other animals. An excited dog might try to run and a shy cat may put its claws out, and you'll need a floor that can handle scratches well and is not detrimental to the paws and claws of animals.
Simple maintenance and easy to keep clean
At a veterinary clinic, you can expect everything from mud, dirt, urine, hair, blood and feces to accumulate on the surface of your floors. This is why a sanitary and easy-to-maintain flooring option is needed. Polished concrete is sanitary and nonporous, making it hard for bacteria and any pathogens to get caught in the flooring. Concrete floors are easy to clean; we suggest using a mop and warm soapy water or a neutral pH cleaning solution. This will ensure germs stay away while also prolonging the life of your floors.
Install

polished concrete floors in your veterinary clinic

When you choose polished concrete for your veterinary clinic, the animals that come in will have a slip-resistant surface to walk on, and you will have a floor that's easy to maintain. Combine that with all of the design options, and you'll have one of the most pet-friendly flooring solutions available! Contact us today to learn more about what we can do for you.