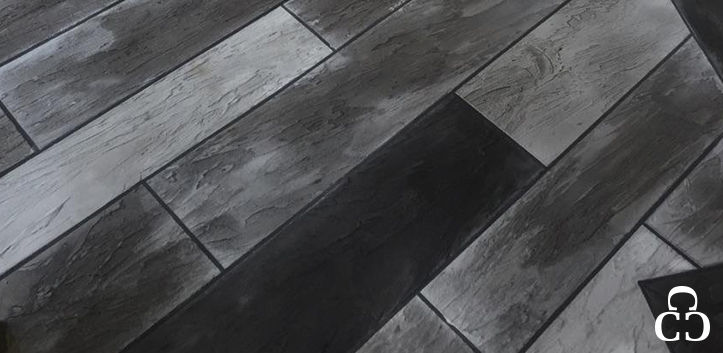 People love the look of classic hardwood flooring in their homes. This design trend has been popular for decades now because of its timeless feel and simple care requirements. People like them because they prefer it to carpet, hard floors are easy maintenance, and they love the sleek style that hard floors add to a home. However, over the years, there has been a budding trend in remodeling homes with fake hardwood to replace the real thing. This kind of flooring called laminate can last for about 10 years to a maximum of 30 years. On the other hand, Woodcrete can last as long as the house is standing!
Forget the fake hardwood laminate flooring and select something more stylish that gives you more bang for your buck! We are naturally referring to Woodcrete.
What Is Woodcrete?
Woodcrete is a term used in the concrete world for decorative concrete creations that replicate hardwood floors. Wondering about the process of Woodcrete? Here is a basic DIY article on how it is created. At Custom Concrete, we use a high-quality concrete stain on your floors and use an efficient installation process. All of this is included in an overall more affordable price than authentic hardwood flooring.
Can Woodcrete Replicate 2018 Flooring Trends?
The answer to this question is yes! Woodcrete can replicate these common design trends in 2018 flooring options.
Hand-Scraped Wood - This features long, ingrained scrapes in the finish composed of different lengths of planks.
Wire-Brushed Wood - The weathered look is a great choice because it hides dirt and dust in your home.
Wide Plank Wood Floors - No matter the decade, this look seems to stick around. However, the short thin planks are going to be outdated soon. This means simply installing larger wood planks.
At Custom Concrete, we have installed woodcrete into a number of residential and commercial locations. We installed planks that mimic the Hand-Scraped flooring trend at Omaha Media Group and Candlewood Church, both located in Omaha!
What Are The Benefits Of Woodcrete?
Woodcrete is a unique addition to your home. Not sold yet? These are all of the benefits of woodcrete!
Woodcrete is great for basements and areas that can flood because it is resistant to water damage and flooding.
Woodcrete is low maintenance!
Woodcrete is great for outdoor and indoor spaces alike.
Woodcrete in the long run is cheaper than hardwood and laminate.
Woodcrete is long lasting!
Woodcrete floors are hypoallergenic!
These benefits, along with others, are some of the reasons why Woodcrete is becoming a go-to design selection for homeowners and business owners alike.
The options are endless with Woodcrete and the benefits make it worth your while!
* * * * * * * *
Custom Concrete Creations is chosen to help facilitate projects because we are the preferred custom concrete floor company, not only in Omaha, but for the greater Midwest region. No project is too big or too small for our team of seasoned experts who use state-of-the-art equipment on each and every project. We help you achieve the look of your dreams and do not consider the job done until you are happy with the results. So give us a call or contact us for your custom concrete needs today!