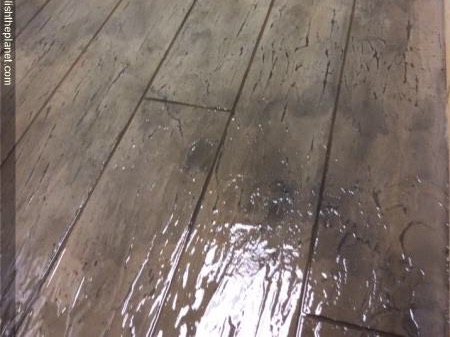 Hardwood floors have been super popular in recent years. They are highly desired and looked to for many different types of projects. Owners love the rustic appeal, timelessness, and durable feel of hardwood floors. Although, they can be very costly and require a large amount of maintenance over the years. Some people turn to laminate or linoleum flooring instead, but these options have a shorter lifespan and cause major problems that end in you having to replace them. Needless to say, this will only leave you with frustration and a (large!) dent in your wallet. The smarter (and arguably more aesthetically pleasing) option is polished woodcrete flooring. Concrete can be transformed to look just like hardwood floors, but last exponentially longer and have a shinier and more eye-catching look to them. The process for creating woodcrete is very simple. Not only are these types of floors aesthetically pleasing, but they are affordable and require little to no maintenance at all. To see more reasons why people love woodcrete check out our past blog posts "Why Is Woodcrete Better Than Real Wood Floors?" and "Concrete Hardwood Floors."
Omaha Media Group is a search engine optimization, search engine marketing and web creative management company that designs and develops intuitive web, mobile and SEO friendly website applications. They help companies take advantage of the power in search, social, business collaboration, cloud computing, mobile applications, and next-generation tools for the enterprise businesses. All three of their offices in the past have had floors done for them by Custom Concrete Creations. This month, we installed woodcrete floors into the bathrooms of their new office off of 180th and Q Streets. Below are some before and after images of the flooring.
Check out Brad Nietfeldt of Omaha Media Group's reactions to his newly renovated bathroom floors:


If you want to see more of our highlights, check out the posts below:

"Industrial Installation Highlight" Hy-Vee from Des Moines, Iowa on March 1st, 2017
"Industrial Installation Highlight - Hy-Vee Shakopee, MN" from Shakopee, Minnesota on August 23, 2017
"Commercial Installation Highlight - Candlewood Church Woodcrete Flooring Omaha, Nebraska" from September 6, 2017
*******
Custom Concrete Creations is chosen to help facilitate projects such as this one because we are the preferred custom concrete floor company, not only of Omaha but also the greater Midwest region. No project is too big or too small. We have state-of-the-art equipment and a very experienced and reliable team. We help you achieve the look that you wish and don't consider the job done until you are happy with the results. So give us a call or contact us here for your custom concrete needs today!