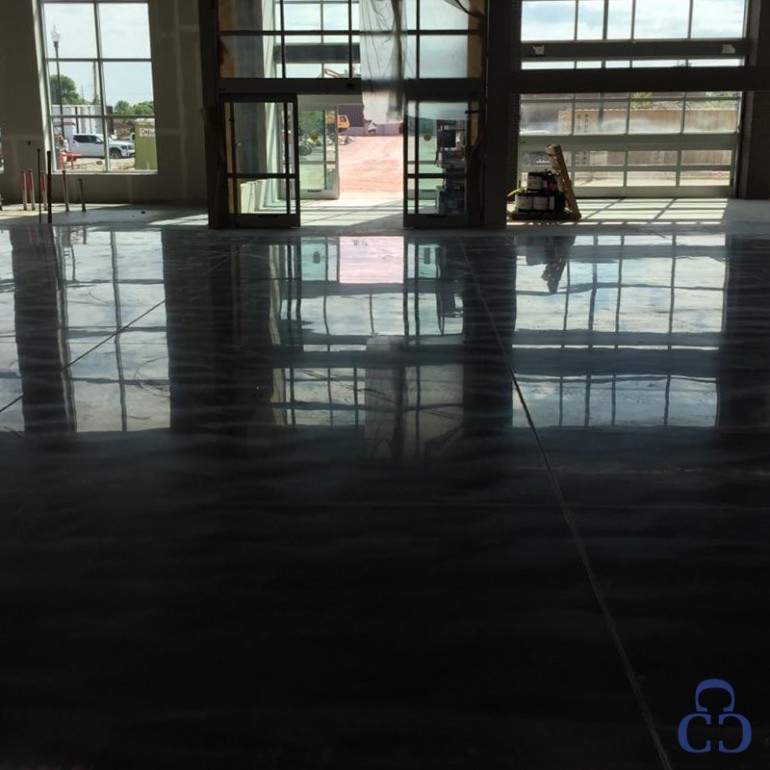 Here at Custom Concrete Creations, we specialize in polished concrete floors for both our commercial/industrial and residential clients. We have a variety of options including C3 rustic wood crete, C3 diamond concrete floors, C3 metallic concrete floors, C3 signature garage floors and more! So no matter what your need, there's something at Custom Concrete Creations for you. 2017 was a great year for us and we would love to share a few of our installation highlights with you.
Our first industrial installation highlight was the flooring at Hy-Vee in Des Moines, Iowa's central business district. We partnered with Hy-Vee Construction to install concrete floors in the heart of downtown. This was one of the first times that Hy-Vee had attempted to utilize a downtown location - and it was a huge success! Custom Concrete Creations is honored to be apart of this new endeavor as Hy-Vee transitioned from being a traditional grocery store to one that had a variety of different restaurants to suit customer needs.
For this next industrial installation highlight, we partnered with Hy-Vee Construction, Project Superintendent Chuck Danner, and SILEX Custom Concrete Solutions to install polished concrete floors in the Shakopee, Minnesota Hy-Vee location. This Hy-Vee included a gas station, car wash, liquor store, Starbucks and interior restaurant. This was a very new and exciting event for the town of Shakopee and Custom Concrete Creations was proud to be a part of it!
In September, we installed woodcrete flooring into Candlewood Church in Omaha, Nebraska. Candlewood is a growing church group full of parishioners that includes people of all ages. We were delighted to help renovate their space. The finishing touches really made this floor stand out and the shine was unparalleled. To learn more about what woodcrete is and how it is installed, click here.
In late September of 2017, we installed more woodcrete floors into the bathrooms of the newly renovated Omaha Media Group location in Omaha, Nebraska. Omaha Media Group is a search engine optimization, search engine marketing and web creative management company that designs and develops intuitive web, mobile and SEO friendly website applications. We have done flooring in all three of their offices in the past. We installed woodcrete floors into the bathrooms of their new office off of 180th and Q Streets.
* * * * * * * * *
Custom Concrete Creations is chosen to help facilitate projects such as this one because we are the preferred custom concrete floor company, not only of Omaha, but the greater Midwest region as well. No project is too big or too small. We have state-of-the-art equipment and a very experienced and reliable team. We help you achieve the look that you wish and don't consider the job done until you are happy with the results. So give us a call or contact us here for your custom concrete needs today!